How to Become a Voice Actor For Disney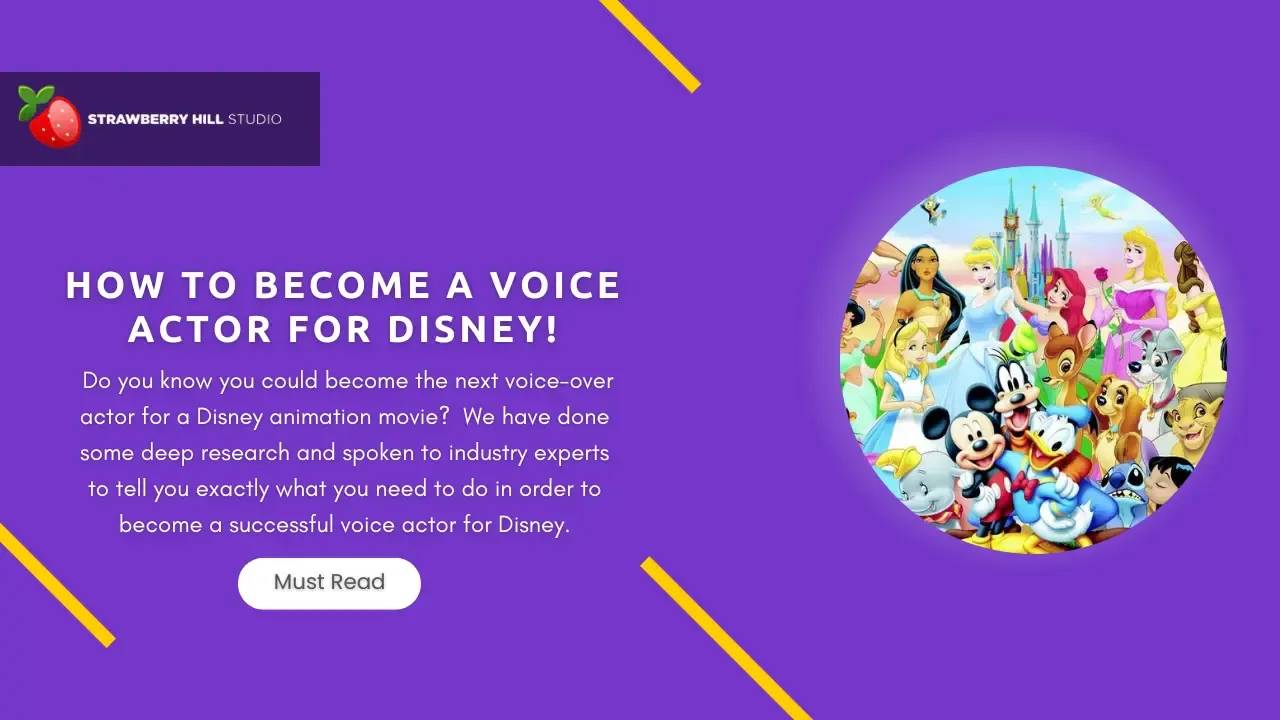 Who hasn't heard about famous Disney animation movies like Frozen, Tangled, Moana, etc? But do you know you could become the next voice-over actor for a Disney animation movie? Don't be surprised. We have done some deep research and spoken to industry experts to tell you exactly what you need to do in order to become a successful voice actor for Disney.
The Application Process to Become a Voice Actor for Disney
The days of live-action experience are gone. Don't think you are at a disadvantage if you do not live near a Disney studio. With the ability to send instantly recorded auditions from any part of the world, you have a chance to become a Disney voice actor if you have the right talent.
Simply submit your video recording. In addition, Disney may ask you to send vocal range samples, audition scripts, and other materials that can help them judge your voice-over skills better.
Once you have successfully submitted your audition tape, a casting director may contact you. But this only happens if they love your video submission, so make sure to showcase all your skills in the video.
The casting director may invite you in for some live demos and studio auditions, after which you can find yourself working on a live Disney project. It could be a video game or a movie or a series!
Disney organises open casting calls in big cities. There are big banners put up all over a city and it is widely advertised on social media platforms. Keep an eye out for them and you may just be in luck to land an open casting audition in your city.
At these Walt Disney voice-acting auditions, everyone is welcome. You do need to have any kind of experience with voice acting to give an audition, although having enough practice is encouraged.
In addition to open casting calls, Disney also welcomes online submissions of your voice-over work. They do not want to limit talent by geography. That is why you could be the next voice-over superstar for Disney even if you are sitting thousands of miles away from a Walt Disney studio.
The additional benefit of submitting your voice-over audition online is that you can send out your best work by giving as many takes as you like. This helps make your online sample submission as perfect as you want.
What Qualities Do You Need to Ace a Disney Voice-Over Audition?
Now that you know the application process for a Disney audition, you may be wondering how to ace it! We know just the right qualities that casting directors are looking for in 2023.
1. Excellent Improvisational Skills
For Disney, it's not much about the lines written on paper, but about how you bring those lines to life. They want to find the essence of the character in an actor's interpreted performance. In fact, Disney wouldn't give you a fully written script for rehearsals, they want you to come up with a brilliant performance on the spot. That is why you need to practice your improvisation skills before you audition for Disney.
2. Wide Vocal Range
Any Disney voice-over performance is incomplete if the voice-over actor is not phenomenally good at both high and low pitches. The sound of your voice has to be pitch-perfect. The best way to make it happen is by constant practice.
3. Storytelling Approach
Disney is big on storytelling. They are always looking for voice-over actors who can transmit emotions through their voices. This can be done only when you ingrain yourself in a character and adopt a storytelling approach yourself. This will help you become more relatable which is a key skill for becoming a Disney voice-over actor.
4. Good Communication Skills
Having good communication skills helps you get a clear idea from the directors and communicate your concerns to them. This is a key skill to have for any voice-over auditions in the industry. A positive attitude is also something that makes the casting directors happy.
Types of Disney Roles
You now know what qualities you need to cultivate in order to become a Disney voice-over actor, but what types of roles is Disney offering for voice-over actors? Let's take a look.
At Disney, a voice-over actor could be cast for an animation project, a TV commercial, a video game and much more! There are even live-action roles that Disney casts for. So, don't feel like there are fewer chances at Disney. Just give your best!
Starting Your Voice-Over Career
If you have not taken any voice-over classes, here's your chance of still making it through your voice-over auditions. Simply, join a voice-over acting workshop , voice acting courses online and work with experts to find the right balance of training and focus. You can kickstart your voice-over career by sitting at home and learning through online classes.
The voice-over classes are given by experts from the industry who are already working as top-class voice-over actors. They know what casting directors are looking for and can guide you in gaining just the right qualities to ace your Disney voice-over audition.
To Sum It Up
Many casting directors want to hear your natural voice in addition to others. Make sure you include it in your samples. You also need to experiment beyond the script to get a hang of the character.
Nothing beats hard work and talent. You need to practice your voice-over skills to sharpen your talent. Acing a Disney voice acting audition is tough but you can make it with some training and direction.
Frequently Asked Questions
Q:How much does it cost to audition for Disney?
A: Disney does not ask for a fee or any sort of monetary value for you to audition for them. Make sure to keep away from fake casting directors who lure young actors to pay for a Disney audition.
Q: How much do Disney voiceovers make?
A: Every voice-over project is different so there is no market standard as to how much a Disney voice-over actor makes. Some famous voice-over actors get paid more than beginners. The price could be 100$ for a small 15 seconds animation and it could go up to $10,000 for a voice-over role in an animated movie.
Q: How hard is it to get a job for Disney?
A: Getting a job for Disney is hard, but if you work hard and have great talent, Disney will consider hiring you. Make a good resume, give your best in the audition and show the casting directors why you are fit for a role and no one can stop you from becoming a Disney voice-over actor.
Q: Do Disney actors get free tickets?
A: Yes, Disney actors and cast members receive a limited number of free Disney tickets every year. These tickets come with some restrictions and are to be availed on specific dates/days only.
Q: Do Disney actors get paid well?
A: Disney actors get paid handsomely. Disney actors on average make about 12.88$ per hour in the US. This can go up depending on the project an actor is working on. It also depends on the popularity of the actor playing a part.