How To Become A Voice Actor For Anime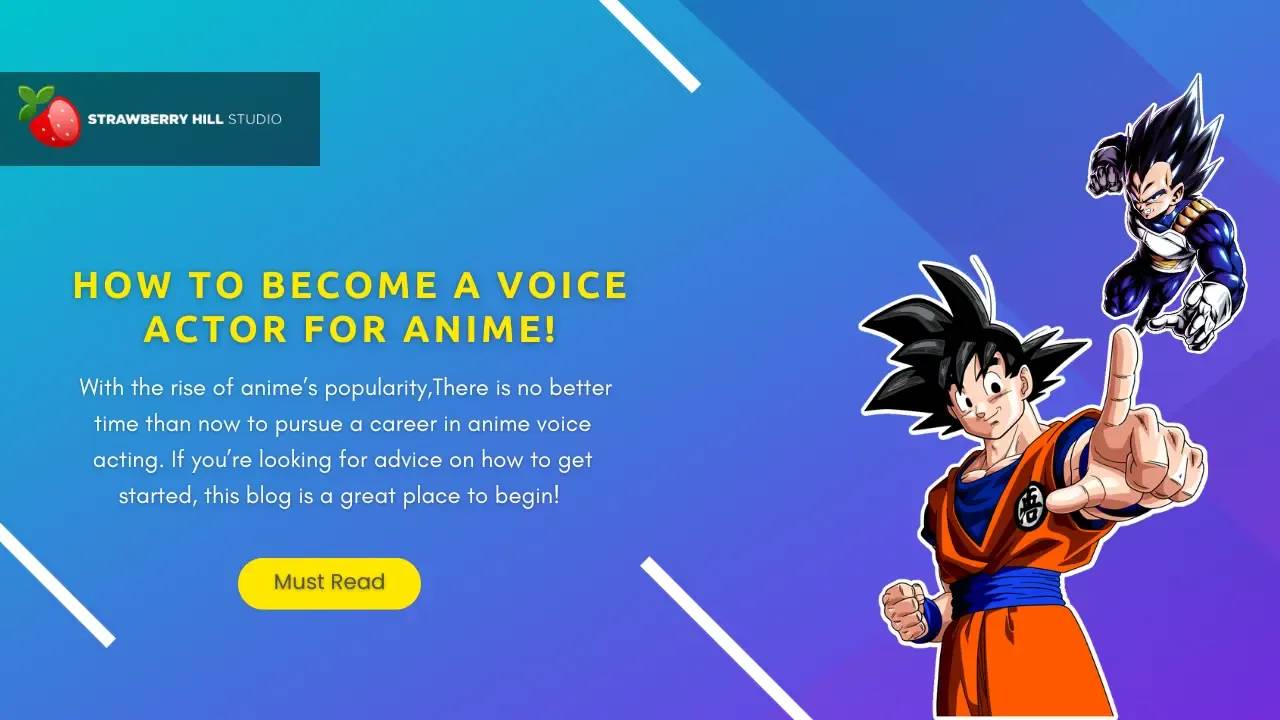 With the increasing popularity of anime in recent years, there are more opportunities than ever for aspiring actors to enter the world of anime voice acting. It is an incredibly rewarding experience for those who have a passion for animation and storytelling, and it can be a great platform for launching a successful career.By applying your talent, you can create memorable characters that fans enjoy watching. It's the voice of the character that makes it alive & gives it a human touch, this makes anime voice acting a crucial part of anime production.
Benefits of getting into Anime voice acting!
As a voice actor for anime, you get to explore different characters and their personalities while developing your own skills as a performer. Getting into anime voice acting is an enjoyable, creative, and rewarding journey that offers tremendous opportunities for growth in the entertainment Industry.
Here are some of the many benefits of getting into anime voice acting-
High Demand - With the ever-going popularity of anime, there is an increasingly high demand for this particular category. This presents an exciting opportunity for those who wish to pursue their career, as it gives plenty of audition opportunities to showcase their talent. To be successful one must be able to possess a great level of vocal variety and vast knowledge of the anime genre.
Recognition - Being able to hear your voice in major production is an amazing experience and can also bring great recognition as Japanese anime magazines often feature profiles of successful voice actors. It is important to remember that the first year may be challenging but if you stay committed, all hard work will pay off.
Setting your own rate - As an anime voice actor, it is important to be aware of the market rate for your service. However, you should set your rate according to your skill level and experience. This allows you to maintain a competitive edge in the anime voice-acting Industry. Additionally, setting your rates can help you gain respect and earn more than you deserve as a professional in the field.
Work from anywhere - Production houses mainly focus on the final recordings & they usually don't care how you get there. For those who love working at their convenient times, working from anywhere on your schedule allows them to focus on perfecting their craft. This freedom is great. A way for aspiring anime voice actors to work around their other commitments as well.
Be your Boss - As you start to get more clients, working as an independent contractor can be safer than having a regular job. This gets you to be your boss by choosing the set of clients you want to work with.
Network - As an anime voice actor, you get invited to various anime events in the entertainment industry. Whenever you get the chance to meet and share a few words, it's a chance to "network".Networking helps in getting referrals and getting known in the industry.
Do you need a degree to be an anime voice actor?
No, formal education is required to get into voice acting for anime. While this type of work requires a high, non-negotiable standard for your voice-over deliverable, no standard education is a prerequisite for you to try the pursuit. The career of voice acting is not like a career of a web developer or a business analyst where your diploma or certification can save you in the job interview when you run a little short in the hands-on. Voice acting classes and workshops on the other hand are a great way to develop specialized skills.
How much do anime voice actors get paid?
Highly experienced anime voice actors get paid around $500 per episode, while experienced actors get paid between $140 and $300. However, this excludes extra fees such as agent commission and tax, and most anime voice actors get paid between $35 and $75 an hour as needed, while most voice dubbing actors get paid between $60 and $80 per hour.
Are Japanese anime voice actors paid well?
The Japanese anime voice-acting industry is an interesting one.
For starters, if you're a newcomer, it starts at 15,000 yen (US$145.44) per episode and the maximum amount is 45,000 yen (US$436.16). There is no upper limit to the unit price per episode, as they will have the opportunity to negotiate a guarantee if they are not eligible for the rank.
It does not fluctuate due to differences in the amount of dialogue. In other words, if they have the opportunity to speak even one word, they can receive a guarantee according to their rank.
But what about those who are already established? Well, some of them have contracts with companies that allow them to negotiate their own salary and compensation package—but it's still based on rank and experience level (and then there's always luck). And while some professionals may be able to make anywhere from US$1-$2 million per year as voice actors working in anime productions, most of us aren't at that level yet!
Steps to becoming an Anime voice actor
Voice acting is a skill that is practiced and honed over time. Most of the successful voice actors working in anime today started their careers as voice actors without any specific training in a specific field. Their core expertise included their acting experience, vocal range, and the ability to assume and maintain a character. A voice actor is first and foremost an actor.
There is no specific path one should follow to become an anime voice actor but here are some tips you should follow to get yourself prepared for anime voice acting.
Develop your acting abilities for dynamic characters - Having acting ability means being a competent actor with the ability to become a character and an understanding of dramatic techniques.You can try watching different anime shows & learn about the characteristics of voice that different characters possess.You can also start looking for mentorship from experts for developing the right abilities.Just remember, it's all about the voice and how you use it.
Practice Reading - Practice reading phrases and try pronouncing them in different ways. By this, you can learn multiple ways to pronounce a specific dialogue. Modifying your voice according to a specific character plays an important role in the field of anime voice acting. Observe different aspects of your voice like - loudness, clarity & variations, and try getting better at each of the aspects for better performance. Try searching different anime scripts available online and reading them, and keep practicing. Voice acting classes online can boost a voice acting career by providing a strong foundation in acting techniques, character development, and industry exposure.
Set up a home studio - Find a quiet space in your home to set up a small studio where you can practice and record. These days it's not all that hard to set up a space with decent acoustics. Buy a decent professional USB microphone, get some free software such as Audacity, and start to practice voice acting. You can try dubbing different existing characters and listen to your own performance. Try improving your performance by getting a consultation on your trial recordings from the experts.
Get Professional Training - A voice acting coach can help you learn various valuable tactics like - How to get into the character and act convincingly, How to use your voice to generate emotions. Also, a coach can help you develop your voice consistency and accent training. A vocal coach can also help you reach a full range of tones and act your voice accordingly. This can help you get ready to crack your first audition with clarity about different aspects that are judged during the audition.
Prepare Demo tape and find representations - If you want to be an anime voice actor, you need to have a demo tape ready to go. The most important part of your demo tape is that it showcases you as a voice actor. Your demo tape should play like short scenes from anime and be no more than two to three minutes. You need to use different voices to demonstrate your range in anime acting. You can also include a section at the end of the demo tape where you read out some lines from an anime script or read the script for your chosen anime. Anime acting is tough to break into.
The best way to get into the industry is through representation or simply approaching the studios directly. Some important people that can help you land your first audition include representatives, agents, and studio producers from anime companies.
It's time for Auditions- After you hone your skills and are ready to start, start auditioning. Being a fresher, you need to give multiple auditions to crack your first role. Audition as much as possible, if you keep at it and constantly improve your craft, someone is bound to give you a shot at doing the real thing. Conducting pre-research about the different studios, voice directors and existing voice actors can really act as a support. If you get rejected, don't take it seriously, take it as an important lesson to practice more and audition again.
Frequently asked questions
Q. Can I be a voice actor for anime?
Ans: Yes, you just need to build the skills required to pursue a career as a voice actor.If you have decent acting skills and a great voice, you can begin carving a path to becoming a voice actor. Good voice acting takes a lot of hard work, patience, and tenacity, but can also be a fun and rewarding experience.
Q. Can non-Japanese become anime voice actors?
Ans: Yes, non-Japanese people can become anime voice actors as long as they have the necessary skills and speak fluent accent-less Japanese. Talent agencies can help match them with jobs and Japan is licensing and distributing more anime TV shows and movies, creating more voiceover opportunities With the growing demand for anime across different countries, the need for voice actors of different languages has emerged which has opened the window of opportunities for different language voice actors.
Q. Who is the most famous anime voice actor?
Ans: Many famous anime voice actors in the entertainment industry are known for their art of making anime characters realistic with their voices. Here are some of the famous names in the anime voice-acting Industry.
Christopher Sabat - Christopher Sabat is a prolific voice actor and director, he notably directed the cast of Dragon Ball Z.
Notable Roles: All Might -My Hero Academia, Garterbelt - Panty & Stocking, Alex Louis Armstrong - Full metal Alchemist, Vegeta - Dragon Ball Z, Roronoa Zora - One piece
Johnny Young Bosch - Johnny is known for his various famous anime roles like Makoto Tachibana in Free! and lelouch amperage in Code Geass. Along with voice acting, bosch also plays guitar and sings in the Rock band eyeshine.
Notable Roles: Makoto Tachibana - Free!, Lelouch Lamperouge -Code Geass, Ichigo Kurosaki -Bleach, Shotaro Kaneda - Akira, Vash the Stampede - Trigun.
Colleen Clinkenbeard - Clinkenbeard's role as Hana from Wolf Children won her the People's Choice Award for Best Female Lead Vocal Performance.
Ezra Scarlet - Fairy Tail, Rachel Moore - Case Closed, Hana - Wolf Children, Monkey D. Luffy - One Piece, Riza Hawkeye - Fullmetal Alchemist.
Q. How much does Crunchyroll pay voice actors?
Ans: According to a voice acting school in Japan, payments for a 30-minute TV anime episode are between 15,000 yen (US$145.44) for lower-ranked voice actors to a maximum of 45,000 yen (US$436.16).
Consider attending some of Strawberry Hill Studio's voiceover workshops to hone your voice acting craft!